DROMARTI
/ˈdrɒm'ɑːti/
noun: Trademark - British
noun: Dromarti; plural noun: Dromarti
1. The finest leather cycling shoes on the planet.
Our Shoes
Quality. Comfort. Style.
Handcrafted from the finest full grain leather.  Enduring style, traditional craftsmanship and retro looks. 
For the discerning cyclist wishing to stand out from the crowd or simply looking for an antidote to florescent microfibre.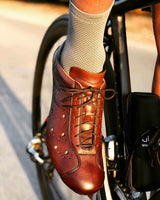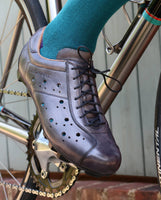 Road & Touring
The Dromarti Race Carbon road shoe. Upgraded with a full carbon sole. 3 bolt fitting. The perfect blend of style and performance.
The Dromarti Sportivo Touring shoe. SPD fitting. Ultimate all-road comfort and style for long days in the saddle. Equally at home on the highway or gravel. The randonneur's favourite.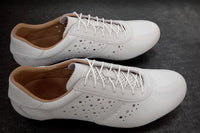 Nuovo Race Carbon
White full grain leather road cycling shoe. Our most requested shoe. Updated for a more contemporary look. Remains true to Dromarti's design DNA and legendary Quality Comfort & Style.
In stock NOW!
Dromarti Classic
Flat sole perfection.
Equally at home on an Eroica event or adding some style to your city commute.
Use with toe clips and straps or flat pedals.
Strengthened mid-sole. Plain rubber out-sole.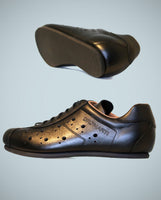 Sportivo Touring

All-road SPD shoe
Sportivo Touring
All-road SPD shoe